Jiangsu IC Test Service Center(JSICTC)

is the key college and provincial cooperation project supported by Jiangsu Province, Suzhou City.
This Service Center found backing on

Suzhou CAS Integrate Circuit Design Center

supplies integrate circuit test services for integrate circuit enterprises, science research institutes and colleges in Jiangsu Province, the Yangtze Delta area and even the whole nation.
The Test Service Center will be found as a

IC test service cooperation

based on

the IC test platform

in the unit supply professional test service on super large scale digital circuit, SOC, AMS circuit, analog circuit, high frequency circuit, radio frequency circuit and the relative talent training of integrate circuit debugging. It is a community services institution combining comprehensive integrate circuit test service, test technical support and test talent trainings.
The Test Center features adiaphorous, opened and widely cooperated characters. It takes full advantage of the existed integrate circuit test resources of this industry through an effective cooperation mechanism and save the spending on purchasing the large scale equipment and constructing at the same time improve the utilization efficiency of the existed resources.
The organizational structure of the test center: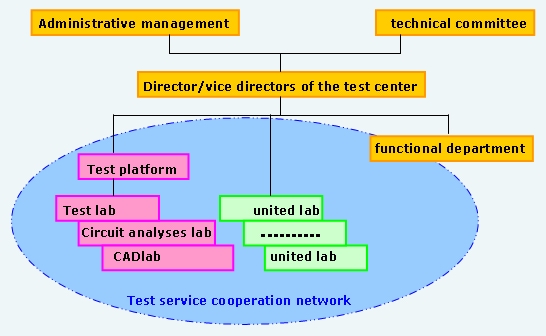 Administrative management: Jiangsu Science and Technical Department, Suzhou Science and technical Bureau, Suzhou Industrial Zone Science and Technical Bureau.
Test Committee: technical and market experts in the academe and industrial community of integrate circuit.
Testing platform: set up laboratories based on Suzhou CAS Integrate Circuit Design Center.
United lab: cooperated unites by colleges, institutes and enterprises.
Test service cooperation network: constitutes by test platform and united labs.
Functional Department: Related departments of SZICC and the IC test department are responsible for the daily operation services of the Test Center.